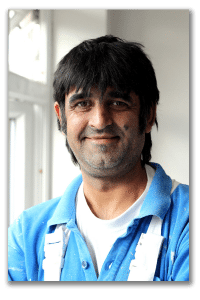 After some 20 years of experience in painting and decorating (and some campaigning for British Sign Language rights), Colin Singh enrolled in University of Central Lancashire and set an aim to gain a degree in Interior Design. In 2008 he graduated and moved on to set up his own painting and decorating business which is now known as CLSi. However, 'Colin' is the name that people use when they recommend his services to family, friends, colleagues and neighbours – word of mouth has been his best marketing tool.
Apprentices
CLSi hopes to expand its services in the future to offer apprenticeships for young deaf people who want to take a career in painting and decorating. Due to various reasons such as poor access to education combined with employers' attitudes towards deaf people, the unemployment rate in the Deaf Community is 13% compared to the national average of 4%. Being deaf himself, Colin's passion is in empowering deaf people to realise their full potential. Apprenticeships under CLSi would offer young deaf people an ideal way to gain qualifications by working in a sign language environment where communication barriers do not exist.
Good communication is a priority for CLSi – sign language interpreters are always used with clients who do not use sign language. Please note this is completely free for you and won't affect decorating costs.
Dulux Select Decorators Scheme
You naturally insist on superb workmanship and attention to detail when choosing a decorator. Expert advice on colour is also essential, along with completion on budget with everything left clean and tidy. Dulux Select Decorators are skilled, experienced, meticulous and reliable professionals who have met these standards and earned a place on the Dulux Select Decorators list. Like all other members of the scheme, CLSi guarantees their work for 2 years after the job is finished (where Dulux products were used).

Help Direct – Safe Trader Scheme
CLSi is also a member of Help Direct Safe Trader Scheme. All members of the scheme have shown they are committed to treating their customers honestly and fairly by committing to a Code of Practice. Traders also agree to work with Trading Standards to resolve problems if they should occur.
Construction Skills Certification Scheme (CSCS)
CLSi also holds a valid CSCS card. These cards provide a consistent method to check construction workers' competency before allowing them access to sites. There are just over 1.8 million valid cardholders in the UK and the scheme is widely used on the majority of construction sites. Most major contractors and homebuilders require their workers to hold a valid CSCS card as a demonstration of their commitment to safe and efficient working.